When:
October 11, 2019 – October 13, 2019
all-day
2019-10-11T00:00:00-07:00
2019-10-14T00:00:00-07:00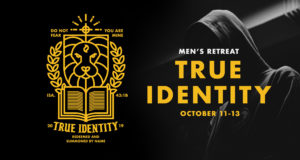 The Men's Retreat theme this year is "True Identity" from Isaiah 43:1b "Do not fear, for I have redeemed you, I have summoned you by name; You are mine."
Our guest speaker is Jamie Winship is the co-founder of Identity Exchange, a training and consulting company on mission to help transform communities by helping those they serve learn to live fearlessly in their true identity! This is an incredible opportunity to spend the weekend in the mountains with other men. There will be tons of great food, activities, and time pursuing the Lord together.
The early bird rate is $144 until August 31st and then it goes up to $165 until September 29th.
REGISTER TODAY.
Begin registration here, and once you click next you will be redirected to the Crosspoint page for additional registration details and payment.